TRACKMATE – THE ULTIMATE TRACKING SOLUTION
REDUCE LOSS RATE AND IMPROVE UTILIZATION
Trackmate is the evolution of traditional Bluetooth (BLE) tracking solutions. The Trackmate solution combines the tried-and-true features of traditional Bluetooth with new cutting-edge firmware eliminating many of the previous challenges with traditional BLE including cost, battery life, noise, etc. The Trackmate solution utilizes low-cost, long-life devices to deliver custom IoT applications providing end-to-end visibility of any asset in a secure and reliable manner to help any business operate more efficiently.
Asset Location Tracking: Track and monitor valuable assets. Know their exact location at any given moment, reducing search time, lost assets, and reduced dwell time improving overall operational efficiency.

Seamless Integration: Trackmate can seamlessly integrate with existing systems, enabling effortless deployment and minimizing disruption to your operations. Maximize the value of your current infrastructure and leverage the power of IoT for optimized asset management.

Analytics and Reporting:Gain valuable insights into asset utilization, operational patterns, and temperature history. Leverage data-driven insights to optimize your processes, reduce costs, and enhance guest satisfaction.

Customizable and Scalable:The Trackmate solution is customizable to meet your specific requirements. Whether you operate in a single location or a chain of properties, our scalable solution can adapt to your needs and grow with your business.

Easy to deploy: Trackmate is customizable to fit your business needs at the price plan that meets your budget requirements.
Facility network utilizes low-cost Relays & Repeaters to cover all areas
Trackmate Bluetooth trackers are deployed, and unique tracker ID is registered to each specific asset ID
Relays provide geolocation and connects tracking devices to the cloud
Repeaters send tracker information to relays
Data is received by cloud, asset is geolocated, and then position is transmitted to customer platform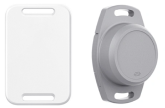 Trackmate Tracker
& Repeater
Sigfox or Cellular network
Low-cost Relays & Repeaters are easily deployed using a custom mobile app
Relays are powered, Repeaters have ~ 5-year battery life
Trackmate BLE solution is the evolution of asset tracking, offering many features not available in traditional Bluetooth.
Comparing Traditional Bluetooth vs Track Mate Bluetooth
 Message Reciept Acknowledgment
 Low Cost Battery Powered Repeaters
 Battery Life of Repeaters
Talk to us today to learn how Trackmate can increase resource allocation and optimize productivity in the following industries:
Manufacturing & Warehouse Facilities
Airports
Ports
Rail yards
Hotels